Sewer Line Repair Melbourne
Get in touch with our plumbing professionals for sewer line repair and replacement across Melbourne. At Jet Plus Plumbing, our emphasis is excellence in service and customer satisfaction means that you can rely for the most challenging of plumbing tasks, such as sewer repair. Sewer line repair and replacement is a serious job. With so much experience, you can trust our plumbing experts to get the job done right the first time. Our sewer line repair and replacement services will not only identify the problem but take preventative measures to ensure it won't return.
You can start by contacting our team today.
Should You Fix Or Replace Your Sewer Line?
The sewer line repair experts at Jet Plus Plumbing can assess your sewer repair needs; diagnose cracks and damages in clay, PVC, and cast iron sewer pipes; and determine the best course of action. These are some of the most common sewer line repairs and replacements we perform:
Pipe relining: Through this method, we'll give you new pipes from the inside out. We can also line existing sewer pipes with a sort of "sleeve" to prevent pipe cracks. First, we'll clean out the pipe. Then we'll apply a lining that will harden in just a few hours.
Burst pipe hydraulic replacement: If your sewer pipe is too damaged, we may need to pull a new sewer pipe through the old one. This trenchless technique involves using hydraulics to further break apart the damaged one and replace it seamlessly with a new pipe.
Preventive pipe maintenance: Lastly, it is important to help prevent sewer line damage from occurring in the first place with regular inspections and drain cleaning services. You'll keep major debris and buildup out of your pipes and avoid cracks, clogs, or bursts.
What Causes Damaged Sewer Pipes?
There are different problems associated with different types of sewer pipelines:
Poor or lack of maintenance
Buildup of hair, debris, grease, sludge, oil, toilet paper, etc.
Tree roots infiltrating sewer pipe holes / joints
Nearby earth movement, heavy construction nearby, etc.
Wear and tear / aging
Poor sewer pipe layout, design, and / or installation
Backup from a city's sewer line
Signs of a Broken Sewer Pipe
Strange gurgling noises coming from your toilet(s)
Lack of water in your toilet(s)
Slow draining bathtub / failure to drain
Noticeable sewage backup in your toilet / bath
Sewer odour in your yard, or other areas of your property
Significantly greener grass near your sewage pipe
Flooded yard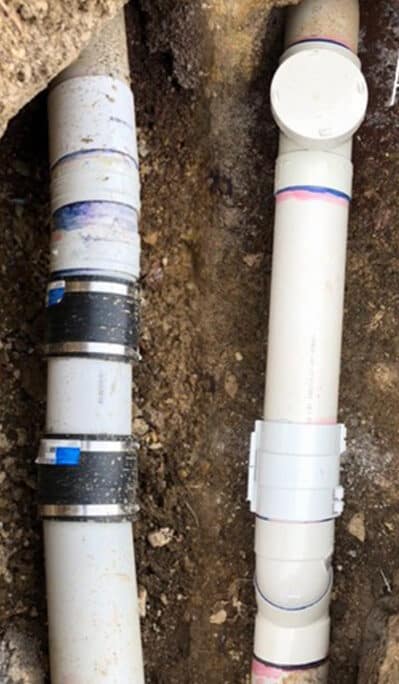 Need Your Sewer Line Replaced?
If your sewer line cannot be repaired, then sewer line replacement is the best option. Jet Plus Plumbing can advise you on what options are best for your household and your budget. We offer alternative sewer line repair and replacement methods. Our trenchless sewer repair and replacement techniques are less invasive than traditional methods and won't tear up your lawn or landscaping.
Professional Sewer Line Repair & Replacement Melbourne
Worried that you might have a sewer leak? Has your yard mysteriously flooded? Don't wait a moment longer to call Jet Plus Plumbing on 0421 725 624! We fix cracked, broken, deformed, and collapsed sewer pipes in a fast and efficient manner
Not only do our plumbers make sure that every client receives the best sewer repair service, we also take the time to explain the problem and how we can fix it. We provide all the information you need and make sure to thoroughly answer all your questions.
Get in touch for a quote for sewer line repair at your Melbourne property today.